Awarded projects
Category 'iStandOut'
E-learning curriculum in Palestinian Primary and Secondary Education
Belgian Technical Cooperation, BTC, Palestinian Ministry of Education and Higher Education 
This project introduces the use of ICT in 288 pilot schools in Palestine in order to enhance student-centred learning and allow students to acquire 21st-century skills.
Website: https://www.enabel.be/story/e-learning-palestine
The award was used to organize the "Innovation, ICT and Technology Fair in Education", which took place on 25, 26 and 27 March 2017 for ± 700 participants. On the first day, 200 selected students presented their projects, which were evaluated the next day by experienced judges – experts and university professors. On the last day, a plenary session took place in the presence of the Minister of Education and Higher Education and the Consul General of Belgium, ending with the award ceremony for the 5 selected projects.
Category 'iStartUp'
Aksantimed
Aksantimed, SOS Médecins  de Nuit, Université Libre de Bruxelles – Phytoconsult H.Y. sprl 
The plague of counterfeit medication has resulted in failed treatments, poisonings, increased resistance to antibiotics, and sometimes even death.  AksantiMed uses the rise of the mobile phone (GSM) and the internet on the African continent to put patients in the difficult task of checking the medication. The patient can use the application Aksantimed to validate the unique 12-digit code printed on a non-transferable label placed on each medication box.
Website: http://aksantimed.com/
Aksantimed received an internship in a Belgian incubator called imec. During this internship Aksantimed was guided in the establishment of their company both in Belgium and in R.D.C. by ACC Team. They received coaching sessions for the further development of their application by means of one-on-one coaching sessions and workshops by experts in the domain of e-Health, e-Commerce and e-Governance and, where necessary, the extensive academic network of imec was called upon to refine the expertise. Co-working spaces were also made available.
Category 'iChoose'
Solarly
Solarly, Better World Cameroon 
Energy is the breeding ground for development. Without energy there is no possible growth. Solarly develops a solution in order to make the electricity access easier for rural household in Sub-Saharan Africa.
Website: http://solarly.webflow.io/
 The project used this award to co-finance the pilot phase. The 6 months in the field helped Solarly to better understand the most urgent energy needs, particularly in the education sector. The 40 prototypes were installed which now provide energy to a school and families without access to electricity, but also to an ecovillage that serves as an informative centre.
Latest news from Winners 2016 and 2018:
Solarly - Winner iChoose Edition 2016
Solarly designs, builds and distributes connected, modular and affordable solar stations. These solutions perfectly meet the energy needs of households, small businesses and community places in sub-Saharan Africa. The objective : to offer green energy and support services in neglected regions. Smart-designed, their solar stations (150Wp-300Wp) offer easy access to electricity, income opportunities and energy independence to its users. Do you want to contribute to the development of sub-Saharan Africa through solar energy? Solarly invites you to participate in its development! Invest in Solarly through LITA!
Other nominated projects
Category 'iStandOut'
Open Clinic
Vrije Universiteit Brussel, VUB, Comprehensive Community Based Rehabilitation in Tanzania, CCBRT 
OpenClinic is a open-source, modular software package for hospital management. It is specifically designed to satisfy the needs in countries with limited resources, according to the patient-centric model.
Website: http://openclinic.sourceforge.net/
Digitruck
Close the Gap International VZW, Affordable Computers and Technology for Tanzania Limited, ACTTL 
The Digitruck adds to both the quality and the availability of education in remote off grid areas by being a mobile classroom with high quality IT equipment and digital enabled learning materials.
Website: http://close-the-gap.org/what-we-do/the-digi-truck/
Category 'iStartUp'
Soundiata Payment Gateway
HEC-ULg Entrepreneurs, Agence de Services Manages, ASM 
One of the main obstacles to the development of e-commerce in Africa is the lack of reliable and secure online payment solutions. Soundiata wants to reinforce mobile banking to promote safe North-South but also South-South exchanges on the internet.
Geo-Domaines Coopération
IT-International Development, Ultima Technologies 
Geo-Domains program facilitates tracking plans, areas and various points positioned by GPS without any geographical or territorial restrictions via PC and mobile phone.
Category 'iChoose'
Bosco School Manager
VIA Don Bosco ngo, Antenne de Développement ADAFO / Afrika, Via Don Bosco 
BOSCO SCHOOL MANAGER is a customized platform for the digitisation of school data and digital data management in West Africa. This system makes it possible for schools to gain a clear insight into their own performance, in addition to monitoring the evolution of their students.
Website: http://www.viadonbosco.org/fr
Let's talk trash
WorldLoop / Close The Gap, photography / grafic design, Great Lakes Initiatives for Communities Empowerment, GLICE 
The project 'Let's talk trash' focusses on educating and enlighting as many people as possible on the importance of bridging the digital divide while creating sustainable solutions for the challenge of the e-waste cycle in Africa.
Website: http://www.worldloop.org/letstalktrash/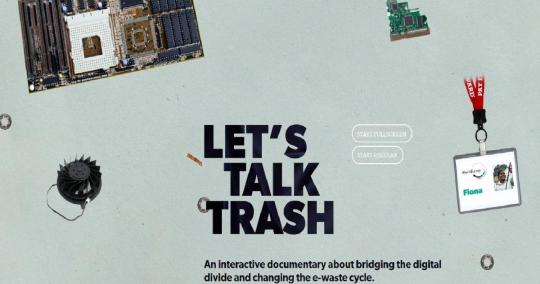 Innovation fair and Awards ceremony
All three winners received their prizes from Minister Alexander De Croo during the Innovation Fair & Awards Ceremony that were organized by the Royal Museum for Central Africa on November 30, 2016 (Belgium).
Photos (©Kris Pannecoucke)